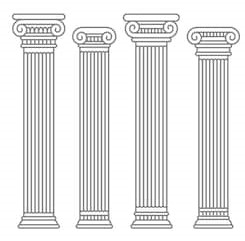 Word Prayer Tithing Worship

Responsive Reading
Pillar I
Pulpit: The Word Hebrews 4:12
12 For the word of God is quick, and powerful, and sharper than any two-edged sword, piercing even to the dividing asunder of soul and spirit, and of the joints and marrow, and is a discerner of the thoughts and intents of the heart.

Congregation: II Timothy 2:15
15 Study to shew thyself approved unto God, a workman that needeth not to be ashamed, rightly dividing the word of truth.

Pillar II
Pulpit: Prayer Jeremiah 29:12
12 Then shall ye call upon me, and ye shall go and pray unto me, and I will hearken unto you.

Congregation: James 5:16
16 Confess your faults one to another, and pray one for another, that ye may be healed. The effectual fervent prayer of a righteous man availeth much.

Pillar III
Pulpit: Tithing Proverbs 3:9-10
9 Honor the Lord with thy substance, and with the first fruits of all thine increase:
10 So shall thy barns be filled with plenty, and thy presses shall burst out with new wine.

Congregation: Matthew 6:21
21 For where your treasure is, there will your heart be also.

Pillar IV
Pulpit: Worship 1 Chronicles 16:28-29
28 Give unto the Lord, ye kindreds of the people, give unto the Lord glory and strength.
29 Give unto the Lord the glory due unto his name: bring an offering, and come before him: worship the Lord in the beauty of holiness.

Congregation: Isaiah 25:1
25 O Lord, thou art my God; I will exalt thee, I will praise thy name; for thou hast done wonderful things; thy counsels of old are faithfulness and truth.